Deciding whether to sell your home or renovate it can be a challenging decision. There are many factors to consider, such as the current state of the property, your budget, and the state of the housing market. In this article, we'll explore some tips on how to come to a decision about your home.
Assess the current state of your home
Before you decide whether or not to sell your home or renovate it, you need to assess its current condition. If your home is in need of major repairs or renovations, it may be more cost-effective to sell and move on. On the other hand, if your home is structurally sound but needs cosmetic updates, a renovation may be a better option.
It also depends on the space you have available. If your home has the potential to be extended and doing so would solve the issues you have with the property then it could make more sense to stay. Depending on the amount of work needed and the associated cost it could be more financially sensible for you to extend, thereby solving your current space issue and adding value to your home. However, property extensions are rarely straightforward. If there's no real option for you to extend, or if doing so would be increasingly problematic, moving home is most likely the best course of action. Of course, you won't know until you look at house prices in the area you wish to move to and/or get an estimate on costs for your extension.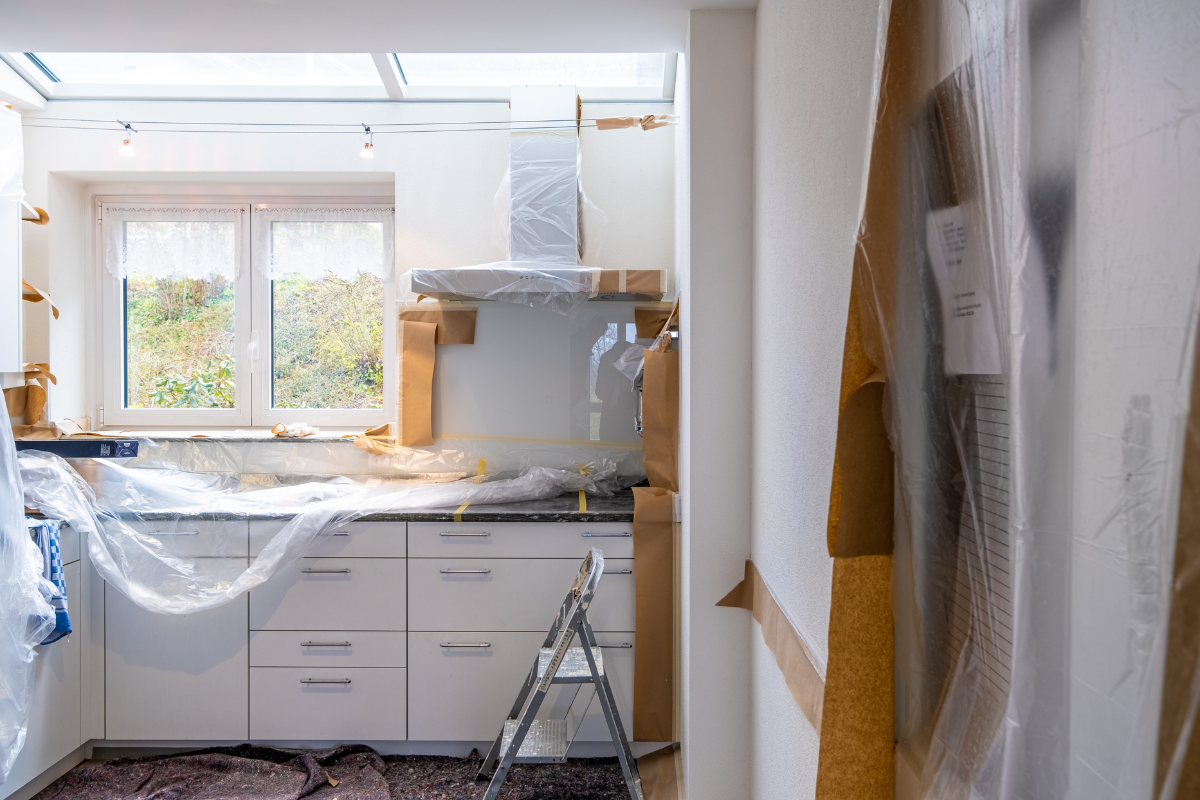 Determine your budget
Your budget is a crucial factor in deciding whether to sell or renovate your home. If you have a limited budget, a renovation may be the more practical option. However, if you have significant equity in your home or can afford a larger budget, selling your home and purchasing a new one may be the better option. This does depend, however, on the scale of the renovation you would need to carry out, as well as the current market value of your home in relation to others that would suit your needs better. You should also consider the fact that the majority of renovations help to increase the property value of your home, so doing so could better your situation in the future if you choose to sell further down the line.
Consider the state of the housing market
This one is rather obvious but the state of the housing market will – and should! – impact your decision. If the housing market is strong and homes are selling quickly, it may be a good time to sell. Conversely, if the housing market is slow and homes are sitting on the market for long periods, it may be better to hold off on selling and invest in a renovation instead.
Determine your long-term goals
Another thing to consider is what your long-term goals may be. Perhaps you need to downsize as your children have flown the nest, perhaps you need something larger as your family is growing. It may be the case that you need something with better accessibility for future considerations. If you're happy with your current location a renovation may be the better choice, but when it comes to limiting available space and freeing up capital selling is the solution you need.
Make your pro's and con's list
Where you live and how your home affects your life is incredibly important and personal and there could be a whole list of reasons why your home is perfect for you but not so for someone else. For this reason it's important to weigh up what works for you in your home and what doesn't. Write up a list of the positives and negatives that you associate with your home to try to make your decision easier. Consider proximity to local amenities, such as shops and restaurants, local transport links, parking space if you drive, outdoor space attached to the property, distance from family and friends and so on. If your current home ticks all your boxes then a renovation is clearly the best solution. On the other hand, if your current home is lacking in things you desire then perhaps it's time to list!
Consult with professionals
When it comes to making a major decision about your home, it's always a good idea to consult with professionals. A real estate agent can help you understand the current state of the housing market and whether selling your home is a good option. A contractor can provide you with a cost estimate for a renovation and help you understand what is possible within your budget. At Varcity Living we can help you decide on the best course of action for you by offering both of these services in-house. Our team of estate agents are well-versed in the local Gwynedd market and have an extensive list of contacts looking for available property in the area. In addition to this, we also offer renovation services through our sister company, VL Projects, where we are able to offer everything from single room updates to full-scale refurbishments.
Deciding whether to sell or renovate your home is a major decision that requires careful consideration. By assessing the current state of your home, determining your budget, considering the state of the housing market, and consulting with professionals, you can make an informed decision that will best suit your needs and goals. To get some help with making your decision get in touch with us at Varcity Living today. You can contact us by filling in the Contact form on our website, by emailing us at sales@varcityltd.com or by giving us a ring on 01248 719254.