It's the most important meal of the day, so finding somewhere good to eat breakfast is a must. And it could be argued that brunch is the most important meal of the weekend . . .meaning that finding a good place to eat breakfast and brunch is essential information to have! It's for this reason that we've put together our ultimate guide on the best places for breakfast and brunch in Bangor, Wales, so that you have a range of options whether you're grabbing a quick croissant or settling in with a pot of tea.
Domu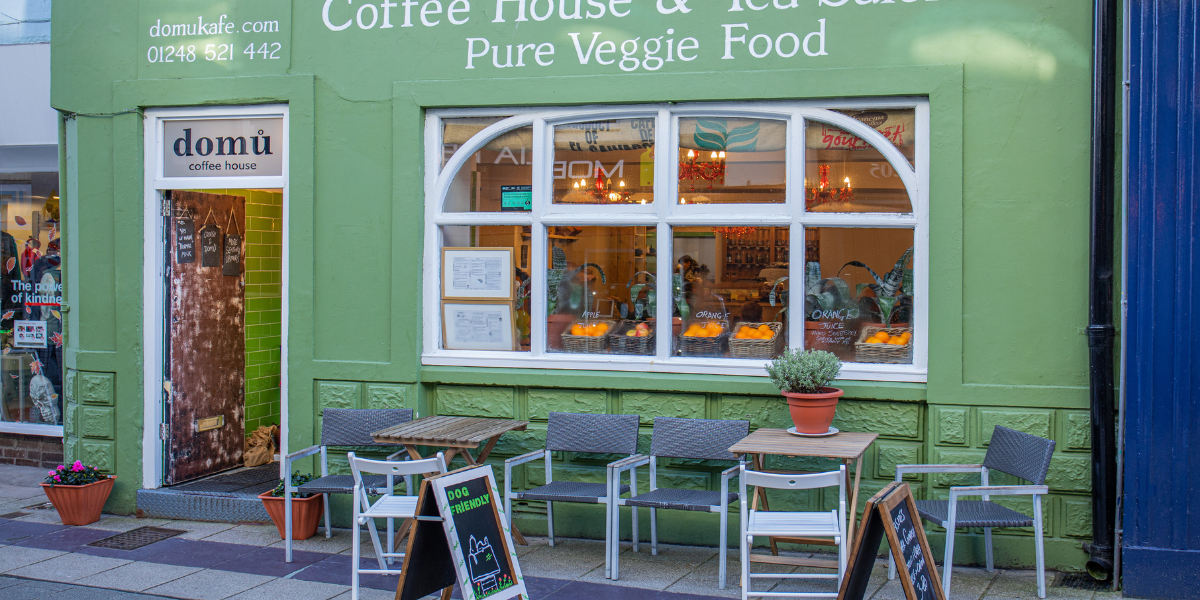 A veggie-vegan haven spread over two floors opposite Bangor Cathedral, Domu is a must-visit for breakfast, elevenses, lunch or just a slice of cake. Both of the owners are musicians, so the background music always strikes just the right tone, whether you're brunching with friends or catching up on some work. Try the freshly baked croissants, stuffed with a filling of your choice. Whatever you decide on, make sure you partner your meal with a mug of mumbai chai which comes with some peanut butter pretzel bites. You'll want to take a box of them home! Find their website by clicking this link.
Open – 9:30am until 5pm all week, except Sunday.
Kyffin Café Deli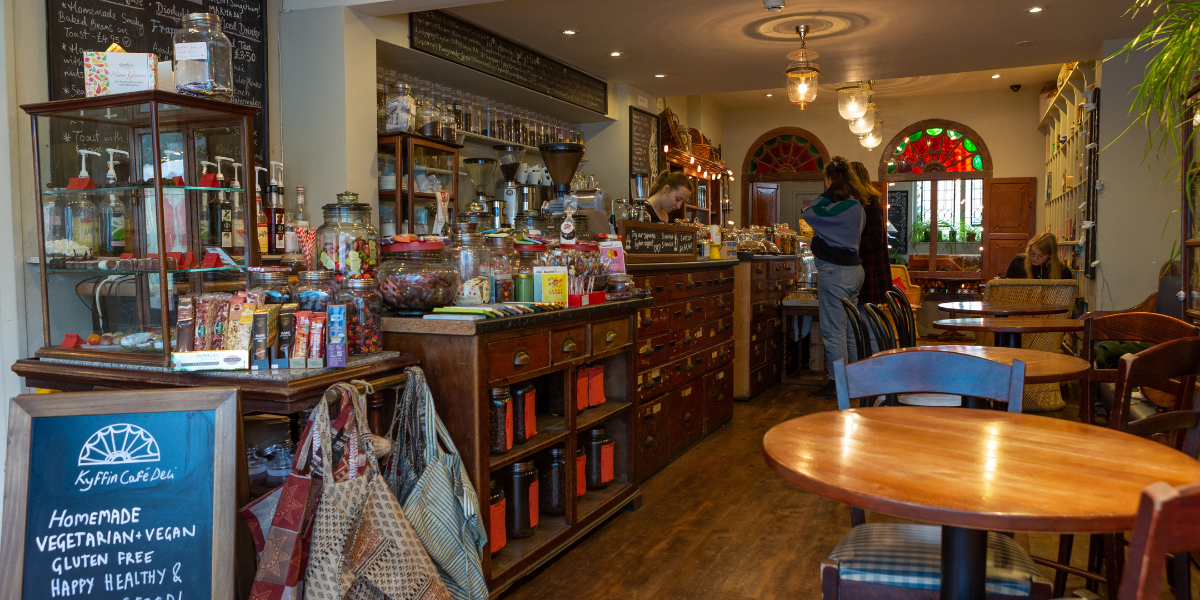 At the top of Bangor High Street, Kyffin is a gem waiting to be discovered. Stocked to the brim with Fairtrade goodies sourced from around the world, the café is also a treasure trove of potential gifts. The menu changes based on seasonal produce and quite often items on the menu have been grown by the staff at the café themselves, meaning vegetables would have been picked fresh that day. There is varied seating throughout, with a garden at the back for dining outside. The breakfast menu is short but sweet and includes some items that differ from the usual breakfast bap. Here you can choose from seasonal fruit crumbles, waffles and smoky beans on toast. We recommend you make your breakfast a late one and perhaps even add a slice of cake to your order . . .
To find out more about Kyffin Café Deli and to see their regular social posts click here.
Open – 9:30am – 5pm, every day except Sunday.
Blue Sky Café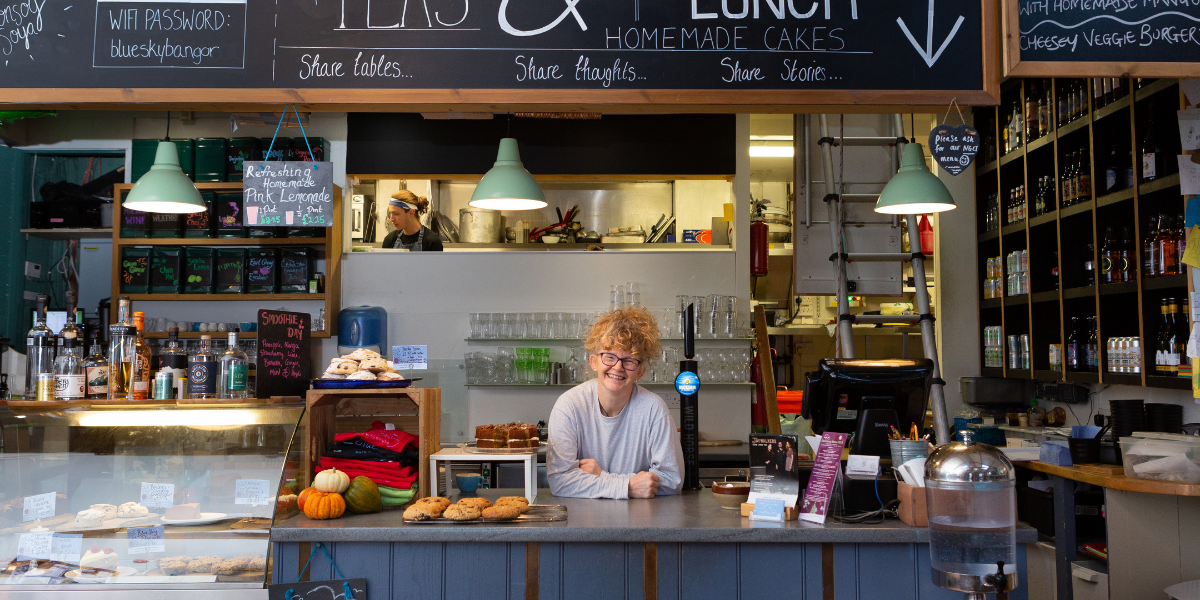 To find Blue Sky Café head down Bangor High Street and then turn off at an alley to your right-hand side, following this until you get to a wooden door. You'll pass Blue Sky Bach on the ground floor before heading up the stairs to a beautiful open room with reclaimed wooden pews and a wood burning fire. Opt for breakfast bowls, special breakfast sundaes or big wedges of fresh toast smeared with butter and jam. And if you're not a morning person there's no need to worry that you've missed out on all the best breakfast foods, as they serve the food on their brunch menu all day.
Usually customers at Blue Sky head to the counter to place their order and collect their drinks. However, in light of Covid-19 restrictions the café is currently only operating with table-service. Book in advance to ensure you can get a table, though they do permit a certain number of walk-ins provided there is sufficient space available. Read their menu and find out more about them on their website.
Open – 9:30am – 4pm, all days but Sunday.
Cegin
Last but not least is Cegin, a café run by Bangor University. You can find Cegin on the second floor of Pontio, the University's arts centre. They serve food throughout the day but if you're looking for a breakfast or brunch spot with a fantastic view across the city of Bangor then this is the place for you. Their breakfast options tend to lean more towards the indulgent type, with waffles, filled bagels and Danish pastries all on offer. If you're feeling a bit more virtuous you can opt for a smoothie, or go completely the other way and pick from their range of cakes.
Open – 8:30am – 6pm Monday to Friday, 10am – 6pm on Saturdays and closed on Sundays.
And outside of Bangor, North Wales?
If you've tried all the spots we've mentioned so far and want to see what lies beyond the borders of Bangor for your breakfast then you're in luck. Just over the Menai Straits, nestled in the streets of Menai Bridge, lies Green Olive, an all-vegan café with an excellent breakfast menu running until 12pm. The proprietress serves pancakes with ever-changing toppings, as well as smoothie bowls, traditional English breakfasts and more. The café is open from 9am until 5pm from Friday to Tuesday.
Alternatively, head out of Bangor towards Caernarfon and stop off in Y Felinheli where you'll find The Swellies. As well as seating inside there are a few tables perched by the side of the water, where you can gaze at the sailboats moored up beside you. Their coffee is sublime and the menu fresh and tasty, including breakfast baps and several different takes on cooked breakfasts.
We're always eager to try a new spot, whether it's grabbing a quick coffee or settling in for a long and luxurious brunch. We hope this helps you find the perfect spot for breakfast in Bangor and let us know if you think we've missed your favourite brunch-spot so we can pay it a visit!