It's spooky season and what better way to celebrate than to get dressed up and go trick or treating? Except, sometimes that isn't really an option and, in 2020, that's something we most definitely cannot do. But there's no reason to feel down. We've got some tricks up our sleeves to help you bring the spooky season indoors for Halloween this year, so that you don't have to miss out on any of the seasonal fun.
What Halloween is all about
To help build up your spooky spirit in the build-up to Halloween it might be worth having a little recap about what the holiday is all about. Halloween is also known as All Hallow's Eve and is observed on the 31st of October in countries all across the world. Traditionally it was a day to mark the end of the harvest season and beginning of the 'darker half' of the year. It was also regarded as a day in which the boundaries between our world and the next (or Otherworld) were thinner, meaning spirits would be able to cross over during this time. It was believed that these spirits needed to be appeased to ensure good harvests and to protect livestock. As a result of the efforts to appease the spirits many traditions were born that we still continue today.
Halloween in Wales
In Wales Halloween was celebrated as Calan Gaeaf. This was held at the end of the harvest season, when it was time to bid farewell to field workers and begin the process of shuttering up for winter. Bonfires were held apparently to prevent the souls of the dead from falling to earth, and the men would dress up as gwrachod, otherwise known as witches. A particularly terrifying ritual was Hwch Ddu, when a man dressed as a pig would rise up, seemingly from the fire, and chase away the children. The last child to arrive home would be caught by the pig which, 'was probably just a fun and effective way of getting children to bed.'
To make sure you don't miss out on any of the freaky fun this year just choose from our list of Halloween ideas below, to ensure your All Hallow's Eve is spook-tacular!
1.Get your Halloween costumes out
Just because you can't – or don't want – to head out into the night on Halloween to go trick or treating doesn't mean you can't enjoy getting dressed up at home! Dressing up is always fun and is a creative activity that people of any age can take part in. You could stick to dressing up on your face only and put your face painting skills to good use, or go mad and really try to freak out the people you live with. If you live with a group of people you could all dress up as characters from a favourite scary movie and then watch the film together in your outfits. If you live with little ones encourage them to get crafty and create their own costumes out of odds and ends you already have in the house. Get them to draw out their ideas first and then help them to create their scary outfit. For some great ideas see here.
2.Freaky flicks and spooky scenes
If your aim on Halloween is to get scared as humanly possible then a horror movie is definitely the way to go. If you're with younger people then stick to a gently creepy film such as The Nightmare Before Christmas, Corpse Bride, Frankenweenie or Hocus Pocus (though there are plenty more to choose from) and make sure everyone has a good stash of sweets to last them through the movie.
If, however, the audience is composed entirely of adults, then find the scariest film you can that no-one has watched and turn out the lights . . . to make it even more terrifying watch the film at night, open the curtains so that trees blowing in the wind keep creeping you all out and turn the volume up loud. Just don't blame us if you have to sleep with the lights on afterwards!
3.Trick or treats behind every door . . .
Trick or treat is a tradition that's been around for hundreds of years. Originally it was called guising or souling; with souling you would go from door to door to beg for soul cakes. These soul cakes were for Christians, and were usually given as alms in exchange for prayers on the gifters behalf. Nowadays trick or treating is simply the practice of going door to door and receiving sweets, and sometimes if you fail to give sweets to trick or treaters you may fall prey to a 'trick' of their making.
Just because you can't go outdoors doesn't mean you can't take part in the fun. Set up sweet stations behind each door and give everyone a door to be in charge of. This is easier if you share a house where everyone has their own independent living space. Then you simply go trick or treating around your home; bonus points for dressing up for this and especially so if you get your pets involved!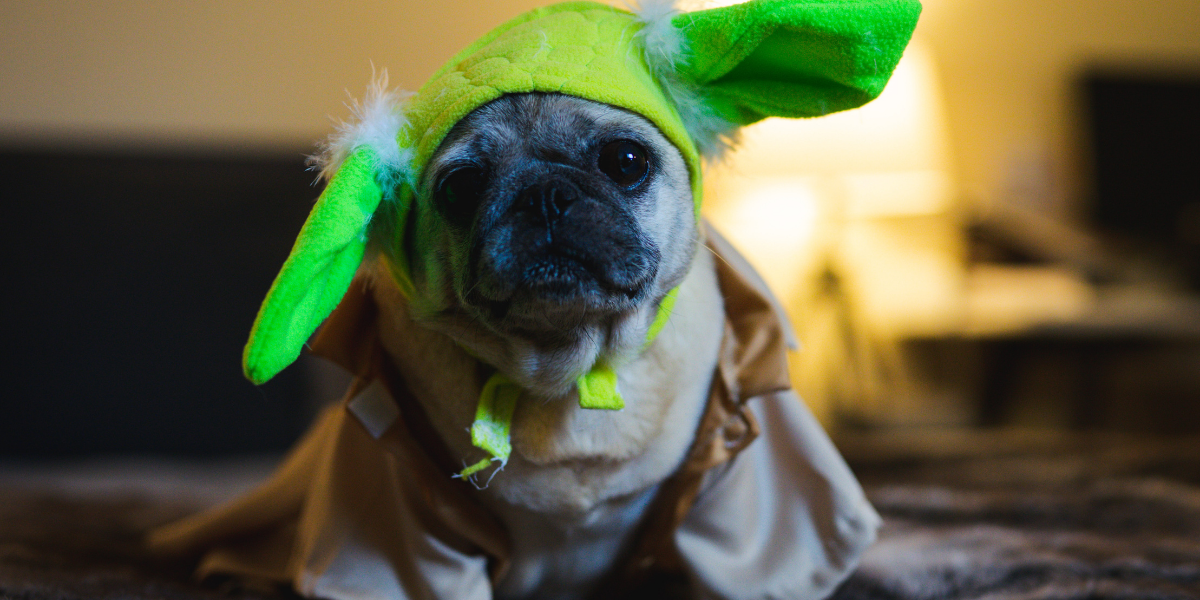 4.Hide and seek – but what will you find?
Hide and seek makes everyone feel a little bit scared, even if it's played in the middle of the day in the height of summer. Swap the middle of summer for winter and the middle of the day for a dark house in the evening and things are about to get a bit creepier! For this you don't really need any preparation, but if there's someone who's particularly good at doing a creepy voice then pick them to be the seeker so that everyone can get extremely freaked out.
5.Scary stories to keep you awake at night
Refresh your memory with some favourite scary stories and gather together everyone in your house. If you can put some candles or electric candles on the floor to sit around then even better. Turn out the lights, put a flashlight under your chin and regale everyone with your terrifying tales! If you're on your own then pick out a scary story to read alone and read it with a flashlight for maximum creepiness. Classics like Dracula, Frankenstein and anything by H.P.Lovecraft or Stephen King are a good place to start.
6.Make some creepy confections
Want to keep things less scary and more scrummy? Then why not get to work creating tasty Halloween inspired treats so that you can enjoy them on the day. Foods associated with Halloween typically include barmbrack, bonfire toffee, toffee apples and any and every type of sweet imaginable. You can get some great inspiration for fun foods to make here.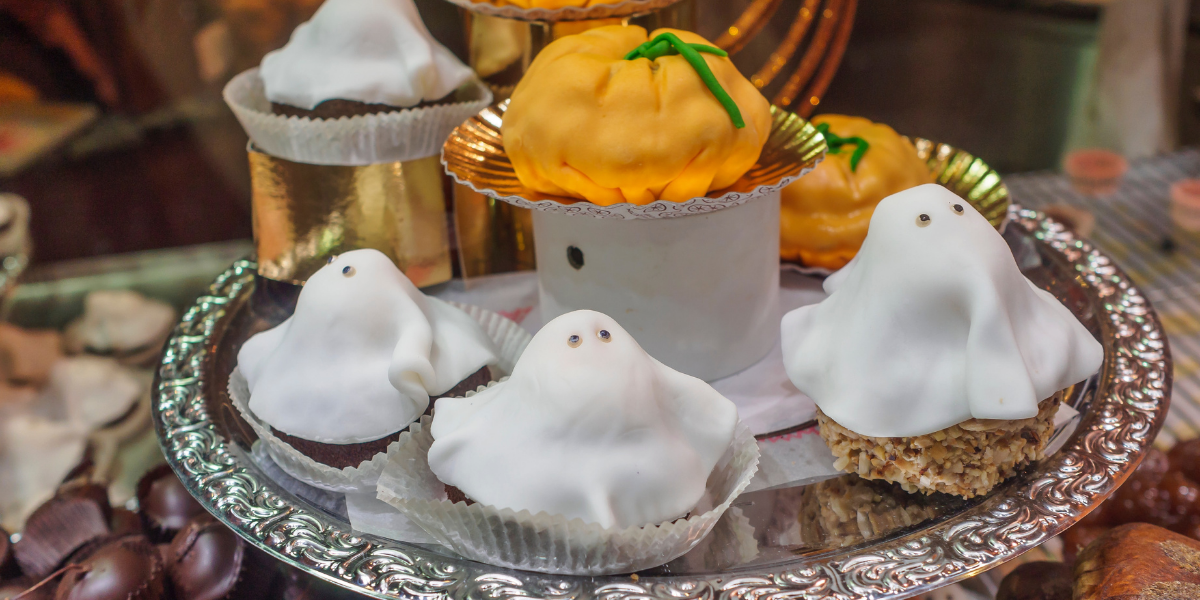 7.Scavenger hunt
Scavenger hunts are fun no matter when you do them, but you can put a creepy twist on your clues and where you hide them. Put up Halloween decorations around the house to set the scene – you can use cotton wool to create cobwebs, white string to make spider webs from one piece of furniture to another and write your clues on the back of pumpkin shaped pieces of paper. You could even set up certain challenges that the player has to pass before they find the next clue! The only limit is your imagination.
8.Pumpkin carving
Jack-o'-lanterns are a traditional symbol of Halloween and thought to represent souls who haven't found their way into either heaven or hell. They were first carved from turnips, before North American immigrants began to use the native pumpkin instead. Now the pumpkin is the most widely carved vegetable and you can get carving pumpkins from any chain supermarket.
Once you've got your pumpkins cut off the tops into a lid and scoop out the insides. You can bake the seeds with spices as a tasty snack for after you're done with your carving! Next, carve your pumpkin into the pattern you fancy and place a candle inside.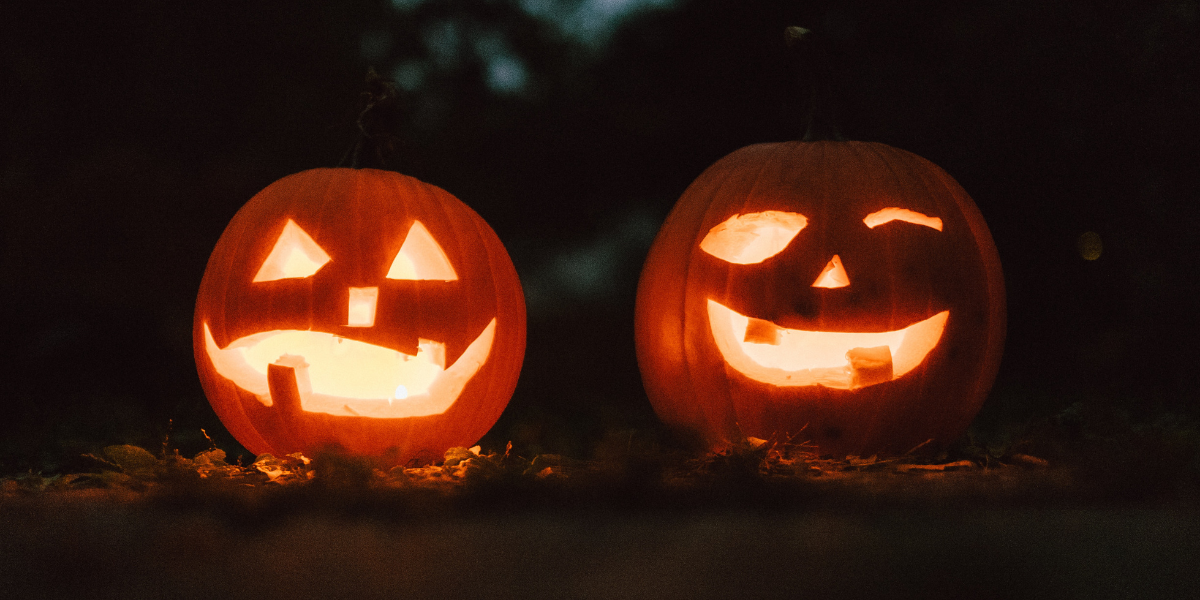 9.Have a mini-party
Just because you can't go to a Halloween party doesn't mean you can't do the Monster Mash! Get dressed up, put some fairy lights up, play some Halloween themed tunes and make a big bowl of 'blood' (punch). You could also create Halloween themed nibbles, such as ghost-shaped sandwiches, biscuits with piped-on spiders and pastry snakes. Whatever you do, make sure you get everyone dancing to Thriller by the end of the night!
10.Acknowledge age old traditions
In addition to trick or treating and pumpkin carving there are several other traditions that you can safely take part in indoors this Halloween. Apple bobbing is a game often played at children's parties but it is actually a traditional game that was most often played at Halloween. Simply fill a large vessel – such as a washing up bowl – with water and apples and then try to grab the apples using only your mouth.
Divination was also extremely popular around Halloween, as the liminal period was thought to aid with prophesying. Ouija boards are popular for this reason but you could also try reading Tarot cards or reading palms to see what the future has in store for you!
Whatever you do this Halloween make sure you stay safe . . .from ghouls that is!